Alligators and Handbags
Season 2, Episode 10

Production Information

Air Date
December 28, 2013
Written by

Adam Beechen

Supervising director

Dallas Parker

Directed by
Joel Dickie

Episode Guide

Previous
Next
A Day at the Museum
Blythe's Big Idea
Alligators and Handbags is the tenth episode of the second season of Littlest Pet Shop and the thirty-sixth episode overall.
Overview
Blythe fights to regain her confidence after a critique session with a famously intimidating fashion editor. Meanwhile, the pets contend with a new day camper – a juvenile alligator with bullying tendencies.
Summary
When do you think you'll be done, Earl?-[src]


This page/section is under construction.
Once it's finished, this tag may be removed.
Coming soon!
Cast
Quotes
Main article: Alligators and Handbags/Transcript
"You're making a BIG MOOSESTAKE! I mean... mistake."
—Blythe
Trivia
This is the last episode to air in 2013.
 The pets' imagination scene was inspired by Tron and / or Power Rangers.[1]
Errors
Coming soon!
Gallery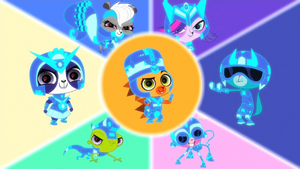 References