You know what you need? You need me! You're winded 'cause you're out of shape!-[src]
This article is incomplete and in need of updates and lengthier content. You can help the Littlest Pet Shop (2012 TV series) Wiki by adding to this article. Remember to follow our guidelines!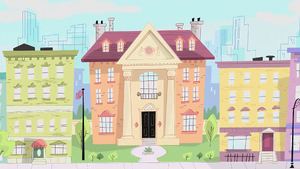 The Biskit Mansion is a home owned by Fisher Biskit, where he and his twin daughters Brittany and Whittany, and butler François LeGrande live.
The main floor is large, with a portrait gallery in the main hall, some of which feature the twins riding unicorns. A staircase leads to the second floor, with several hallways leading to many rooms. One of which is Whittany's bathroom, in which Fisher bought a golden doorknob online to adorn it with.
In Winter Wonder Wha...? The mansion is also shown to have a large sitting room with a fireplace, where Fisher sits and reads the paper.
The twins have a room, which may be a bedroom. Where they use laptops and keep an entire armoire full of laptops.
Francois we can assume has a living quarters, as he is a full-time butler, as well as bedrooms for the twins and Fisher. Shown in So Like Bored, it is confirmed that Brittany and Whittany share a bedroom, though it could be implied that their bedroom may be in close proximity to Whittany's bathroom, due to convience and the twins history of being extremely lazy.
They have a large dining room, which Roger played board games with them in Grounded.