Delilah
Physical Information
Species
British Shorthair
Sex

Female

Appearance
Golden eyes, blonde hair, purple fur
Personal Information
Occupation
Pet Fashion Model
Residence
London
Production Information
Debut
The Expo Factor - Part 1
Voiced by
Tabitha St. Germain
Delilah is a British cat who appears in The Expo Factor - Part 1. The toyline gives her name as Delilah Barnsley.
Personality
Delilah is a fashionista, which says much about her personality: She knows her own worth. She is always good looking and well-mannered.
Unlike Zoe, she does not let her emotions show, but that does not mean she is cold and heartless. In fact, she is wise, which shows as she takes no offence in Zoe's outburst, but explains her point of view calmly. The only moment she let her emotions show is a musical number she performs for the other pets – and when Blythe scratches her back.
She has a strong British accent.
Development
Delilah shares her name with a lizard from the original show who wanted to eat the other pets, though developer Julie McNally Cahill stated she is not named after any particular Delilah.[1] She also said that her character was based on Rebel Wilson.[2]
Profile
Delilah is a pet fashion model and most of the time, the Littlest Pet Shop pets are confused on the way she talked, apart from Sunil who seems to be attracted to her.
Appearances
Merchandise
On mid February 2014, a Getting Glamorous Styling Pack was announced, featuring Princess Stori, Hisako Matson, Woolma O'Chic and Delilah Barnsley. The "Delilah Barnsley" tag is under a gray cat, rather than the toy that looks like Delilah, but when asked about it, Julie McNally Cahill said "Delilah's the purple cat".[3] However, it should be noted that Julie has no involvement with the toyline.
Quotes
"But I will warn you that when it comes to this kind of thing, I can get alarmigly upbeat!"
"All right, petlets. Eyes on the kitty-eeeee!''"
—The Expo Factor - Part 1
"They say that you can understand pets. If that's true, then what did I just say?"
—The Expo Factor - Part 1
Gallery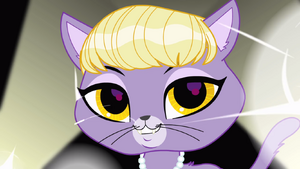 References
Community content is available under
CC-BY-SA
unless otherwise noted.