Feud for Thought
Season 3, Episode 9

Production Information

Air Date
July 26, 2014
Written by
Story by:

Adam Beechen

and

Roger Eschbacher


Teleplay by: Roger Eschbacher
Supervising director

Dallas Parker

Directed by
Joel Dickie

Episode Guide

Previous
Next
Two Pets for Two Pests
Fish Out of Water
"Well, if you think you're so smart, why don't you just go be, like, with your own kind?"
Feud for Thought is the ninth episode of the third season of Littlest Pet Shop and the sixty-first episode overall.
Overview
Brittany ignores Whittany after getting a higher grade on a test. Meanwhile, arguing koalas cause trouble at the pet shop.
Summary
When do you think you'll be done, Earl?-[src]


This page/section is under construction.
Once it's finished, this tag may be removed.
Coming soon!
Cast
Trivia
The title is a play on "food for thought."
The names of the feuding hillbillies Mr. Coyfield and Mr. McHat are a reference to real-life historical feuding Hillbilly families the McCoys and the Hatfields.
Continuity
The roller coaster Blythe and her friends intended on going has the same appearance as Zany Island's Super Blaster Coaster, seen in Missing Blythe.
Errors
Coming soon!
Quotes
Main article: Feud for Thought/Transcript
Coming soon!
Gallery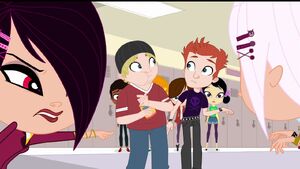 References