Game of Groans is the sixth episode of the fourth season of Littlest Pet Shop and the eighty-fourth episode overall.
Overview
Russell's dream comes true when Blythe takes him, Sunil, and Vinnie to the Renaissance Fair in Downtown City Park. However, he soon discovers trouble is afoot when an old friend informs him of nefarious activity at the fair.
Summary
When do you think you'll be done, Earl?-[src]


This page/section is under construction.
Once it's finished, this tag may be removed.
Coming soon!
Cast
Trivia
The title is a reference to Game of Thrones.
Zoe, Pepper, and Minka do not appear in this episode. Penny Ling does, but only in Russell's fantasy.
Youngmee has an irrational fear of jester hats.
The episode has references to Monty Python and the Holy Grail:

Russell shouting, "Ha ha!" upon his "escape" from Ye Olde Pet Zone, like Sir Lancelot upon his siege at the Swamp Castle.
Shivers hitting two acorn shells together to make the sound of a horse galloping, like with coconuts in the film.
Errors
Coming soon!
Quotes
Main article: Game of Groans/Transcript
Coming soon!
Gallery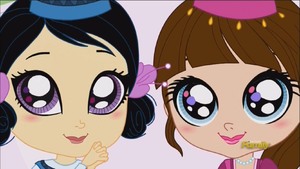 References