Grounded
Season 2, Episode 18

Production Information

Air Date
February 22, 2014
Written by
Story by:

Julie McNally Cahill




Tim Cahill




Corey Powell


Teleplay by: Corey Powell
Supervising director

Dallas Parker

Directed by
Joel Dickie
Song(s)
Biskit Twins Rhapsody

Episode Guide

Previous
Next
Shanghai Hi-Jinks
Inside Job
"I'm afraid we're going to be tightening the purse strings for a while, Blythe. I've just been laid off."
Grounded is the eighteenth episode of the second season of Littlest Pet Shop and the fourty-fourth episode overall.
Overview
When Roger is temporarily laid off, he takes a job as the Biskit Twins' personal assistant and chauffeur, much to Blythe's dismay. Meanwhile, the DNA test results on two of the pets (Minka and Zoe) temporarily turn the day camp upside down.
Summary
When do you think you'll be done, Earl?-[src]


This page/section is under construction.
Once it's finished, this tag may be removed.
Coming soon!
Songs Featured
Cast
Singers:
Trivia
Errors
During "Biskit Twins Rhapsody," Brittany's eyebrows are black.
Near the end of the song, when Brittany sings, "Yeah-ah!", her right hand is out of place.
As the Biskit Twins sing the line "Life is good," Whittany's left arm is chopped out.
Quotes
Main article: Grounded/Transcript
Roger: It's time for me to head out.
Whittany: Don't leave. Stay.
Brittany: Yeah, we're having fun.
Roger: Sorry. I've got someone at home waiting for me.
Brittany and Whittany: Plee-eease?
Roger: Well, how can I say no when you've used the magic word?
Brittany and Whittany: Yay! Ha-ha!
"I've lost my dad to the Biskit Twins."
—Blythe
Whittany: (to Roger, after he angrily drives them back home instead of Russia) Just so you know, your song stunk!
Brittany: Oh, and you're, like, FIRED!
Gallery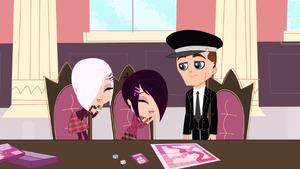 References