You know what you need? You need me! You're winded 'cause you're out of shape!-[src]
This article is incomplete and in need of updates and lengthier content. You can help the Littlest Pet Shop (2012 TV series) Wiki by adding to this article. Remember to follow our guidelines!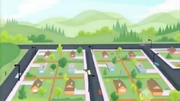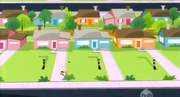 This is Blythe and Roger Baxter's hometown. It is shown to be a suburban area with a park. It is only shown in Blythe's Big Adventure Part One.