It's a Happy, Happy, Happy Happy World
Season 4, Episode 18

Production Information

Air Date
April 16, 2016
Written by

Eric Rogers

Supervising director
Joel Dickie
Directed by

Steven Garcia




Mike Myhre

Episode Guide

Previous
Next
A Doggie Biskit
Race Team: Buttercream
It's a Happy, Happy, Happy, Happy World is the eighteenth episode of the fourth season of Littlest Pet Shop and the ninety-sixth episode overall.
Overview
In order to help Sunil seek happiness, the pets go on an adventure around Downtown City. Meanwhile, Blythe loses her mother's journal and must figure out how to get it back.
Summary
When do you think you'll be done, Earl?-[src]


This page/section is under construction.
Once it's finished, this tag may be removed.
Coming soon!
Cast
Trivia
Continuity
Errors
Coming soon!
Quotes
Main article: It's a Happy, Happy, Happy, Happy World/Transcript
Coming soon!
Gallery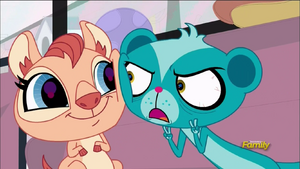 References