Ling Jun
Physical Information
Species
Panda
Sex

Female

Appearance
Blue and white and purple eyes
Personal Information
Residence
Shanghai, China
Family
Penny Ling (cousin)
Ling Pen (brother)
Jun Ling (sister)
Production Information
Debut
Shanghai Hi-Jinks
Ling Jun is a panda bear that lives in Shanghai, China. She is the cousin of Penny Ling and sister of Ling Pen and Jun Ling. She only appeared in Shanghai Hi-Jinks.
Appearance
Ling Jun is a white headed panda with dark purple colored eyes and powder blue circles around them. Her ears and tail are also powder blue, as is her body, which has white going down the front center. Her arms and legs are also blue, but she has white on her toes and palms.
Personality
Coming soon!
Trivia
In Littlest Pet Shop Your World, her name was Sally Zhen
Gallery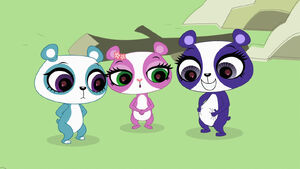 References