Ahhhhhhhhh! That's A DIFFERENT CONTENT UNIVERSE!!!!!!!
The contents of this article are not from the same canonical universe as the Littlest Pet Shop 2012 TV show. This means the content of this article can be contradicting to information shown on the show.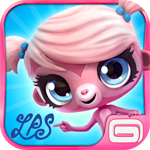 Littlest Pet Shop is a mobile app created by Gameloft. It is available on iPhone, IOS, and Android.
The subject of the game is to make a town of pets (and only pets) and take care of them all by tending to their needs and expanding the town. To do this, the player need to feed, groom and play with the pets and use their kibble (and other sources of payment) to purchase new things.
Pets List
Click at the [Expand] on the right to see the full list of pets
Welsh Corgis
Zebra
Quirky Kitties
Hound Dogs
Dachshunds
Dancing Horses
Chihuahuas
Puppies
Penguins
Lop Rabbits
Lambs
Fun Ferrets
Cats
Armadillos
Dogs
Swans
Stylish Bunnies
Persian Kittens
Energetic Tigers
Sheepdogs
Horses
Elephants
Tigers
Giraffes
Koalas
Squirrels
Raccoons
Sweet Delights
Fun Elephants
Bulldogs
Ladybugs
Lop Bunnies
Boston Terriers
Dalmatians
Goats
Collies
Jaguars
Huskies
Flamingos
Long-tailed Cats
Fun Felines
Persian Cats
Kittens
Happy Koalas
Bears
Peacocks
Ferrets
Yorkshires
Lions
Canaries
Tokens
Tokens are square cardboard cards bundled inside LPS toys. They are scanned by the device's camera to "collect your collection digitally". Tokens appeared January 2012. In late 2014, the small cardboard pieces will be discontinued, alluding to the Franchise-Reinvention, which the tokens will be the pet figures themselves.
Trivia