Lucky Browne is a recurring character in the series. She is not named in the series, but her name is used in merchandise. She is a brownish cat with lighter fuzz on her head, neck, tail and around her blue eyes. She wears a green necklace.
Appearances
Merchandise
Even before there was a toy of her, she appeared on the "The Bobble is Back!" advertisement along with other characters, to advertise new toys with bobble heads.
In February 2014, a toy of her was shown at Toy Fair 2014 as part of the Franchise Re-Invention. She is bundled with Lefty Silverstein in the We Love to Party! themed pack, which is the source of her name.
In March 2014, an unnamed cat toy in her appearance was posted on Hasbro's website, with the ID #3578.[1]
Gallery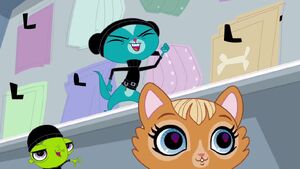 References