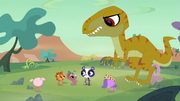 Mike is a velociraptor who appears in A Day at the Museum.
Trivia
Velociraptors are much smaller than what is shown in the show. Plus, they where covered in feathers and lived in the desert of Mongolia and they had a large claw on the inner toe of each foot that they held off the ground.
Community content is available under
CC-BY-SA
unless otherwise noted.