When do you think you'll be done, Earl?-[src]


This page/section is under construction.
Once it's finished, this tag may be removed.
You know what you need? You need me! You're winded 'cause you're out of shape!-[src]
This article is incomplete and in need of updates and lengthier content. You can help the Littlest Pet Shop (2012 TV series) Wiki by adding to this article. Remember to follow our guidelines!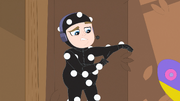 Morgan plays Bruce in The Big, Feathered Parade.