My New Tail is a song sung by Vinnie Terrio as entertainment at Penny Ling's party celebrating her first anniversary of residency at Littlest Pet Shop toward the end of Frenemies.
Vinnie performs the song as a Broadway or vaudeville style tap-dance number a la Fred Astaire, complete with top hat, tuxedo, tap shoes, and straight black cane with white tip, making himself a real show stopper for Penny Ling's party.
Composer Daniel Ingram gave special thanks to Steffan Andrews "for the fun and clever orchestration".[1]
Lyrics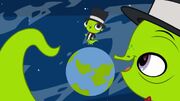 [Vinnie]

I'm sporting my top hat
I'm straightening my bow-tie
And wearin' my brand new tail - whoa!
I'm making my toes tap
Just watch how my feet fly
When I'm wearin' my brand new tail

(Crash)
Ow! Are you okay?
And when I get right in a groove
I show the world my groovy moves
Tail and me, we show them all
So what? We might stumble and fall

Uh-oh. Ow...
Can't help it if my fingers snap
I'm such a graceful guy

Whoa, oh, ooh oh!
(All gasp)

When I'm wearing
My new tail
References