Nutmeg Dash is a Cocker Spaniel who first appeared in Petnapped!.
She had once belonged to a billionaire named William Stacie who died. He left on his last will that Nutmeg would decide who her next owner will be and she is currently Youngmee's pet.
Appearance
Nutmeg Dash has nutmeg-colored fur with lighter brown markings on her face, eyelids, and chest. She has a brown crown shaped marking on her underbelly. She also has blue eyes, wears two pink bows on both ears, and has a pink collar with a pink heart shaped tag.
Appearances
Trivia
Her full name is Nutasha Margareta Dashiniola.
Gallery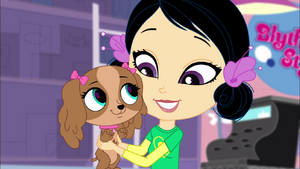 References