Parker Waddleton[1] is a penguin who stayed at Littlest Pet Shop in Winter Wonder Wha...?. He was feeling homesick, so the pets tried to help him feel like he was back home at the South Pole.
Profile
During a snowy day, Mrs. Twombly introduced this guest to the pets. Pepper tried to amuse him with penguin jokes, but he was too down, feeling homesick. The pets tried to cheer him up by wearing tuxedos, turning the temperature down to zero degrees and even freezing over the day camp's floor with ice, but nothing worked for too long.
In the end, he had been warmed up by the pets' friendliness and got over his homesickness.
Quotes
Parker: Home isn't always just a place. It's also a feeling you get when you're with friends!
Parker: Hey, Pepper! What would you call a penguin's smile? A pen-grin!
Gallery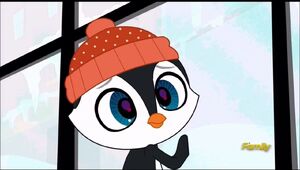 References