"You're such a luckity-duckity to be able to know what he is thinking. I would love to know what the pets in our day camp are thinking..."
Pawlm Reading is the fifth episode of the second season of Littlest Pet Shop and the thirty-first episode overall.
Overview
Littlest Pet Shop is in an uproar when a woman claiming to be a pet psychic sets up shop in the store and tells everyone what their pets are really thinking.
Summary
When do you think you'll be done, Earl?-[src]


This page/section is under construction.
Once it's finished, this tag may be removed.
The episode opens at the day camp with Russell reading, Vinnie practicing his dancing, Zoe admiring her reflection, and Pepper juggling for the amusement of Sunil, Minka, and Penny Ling. After saying goodbye to the pets, Blythe hurries to school.
Cast
Trivia
Coming soon!
Errors
Coming soon!
Quotes
Main article: Pawlm Reading/Transcript
Coming soon!
Gallery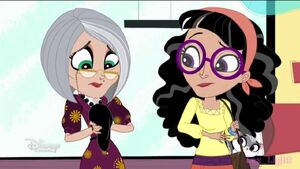 References