Pete
Physical Information
Species
Rat
Sex

Male

Personal Information
Residence
Dump
Production Information
Debut
What Did You Say?
Voiced by
Peter New
"So let me guess. You was playin' around the dumpster with your little insect buddy there and got taken away by the garbage truck. Am I right?"
—Pete, What Did You Say?
Pete is a resident of the city dump. Along his two rat friends, he helps pets that get accidentally taken there.
He enjoys scavenging trash cans, especially the dumpster full of goodies from Sweet Delights. He is sometimes seen inside Downtown City's storm drain.
Profile
Vinnie met Pete and his gang when he was accidentally brought to the dump. Vinnie thought they were going to eat him, but Pete convinced him they wouldn't. On hearing that Vinnie needed to get back to Littlest Pet Shop, Pete offered to help him back (Mostly so he could eat from the dumpster outside the shop's neighbor, Sweet Delights). Along the way, Vinnie was snatched up by a little girl who claimed him as her pet. Pete saved Vinnie, and successfully brought him back to the Pet Shop. Pete then went to eat from the Sweet Delights dumpster.
Pete later was present among a crowd of troubled pets in Tongue Tied. In Fish Out of Water, Lemasque's gang features rats who look like Pete and his friends, and Pete alone is seen inside the storm drain in the short Naptime's a Ball as well. His two friends also appeared in Blythe's Big Idea, singing in the Pet Friendly Skies crowd.
In Back Window, Pepper and Russell recognize him when they spot him snatching paper from a trash bin. He then happily waves at them.
Appearances
Quotes
Pete: Hey, what do you say we crack open that sweet shop dumpster and live a little?
Gallery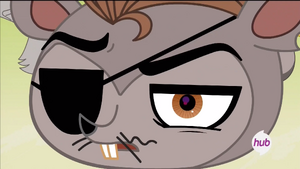 References