"He was having trouble coming up with something new and envelope-shattering fabulous for the parade. When he saw your designs, he liked them more than his own, so he showed them to the judge and said they were his."
Ramon is a famous Big Feathered Parade designer. Despite being known, Ramon does not seem to have many fans, though he claims the opposite.
Personality
Coming soon!
Appearance
Coming soon!
Profile
Ramon has an inspirational mynah bird named Desi, whose fallen feathers are used in his designs. However, Ramon sometimes stresses him so that his feathers fall out before the time, which made him want a new owner.
He was having trouble coming up with designs for the parade, so he stole Blythe's designs portfolio and her ideas for the parade. Since no one had seen Blythe's designs, he successfully claimed them as his own until Blythe got proofs against him.
Ramon later returned in the episode Plane it on Rio!, taking the Pet Jet to Rio de Janeiro to compete in the Carnival parade. This time, he had replaced Desi with robotic birds, including one called Ramona. He stole Blythe's luggage and planned to use her ideas for himself again. He came in second in the Rio Carnival and Roger said he could not go home with the Pet Jet because his pet was not real.
Quotes
Coming soon!
Appearances
Trivia
Coming soon!
Gallery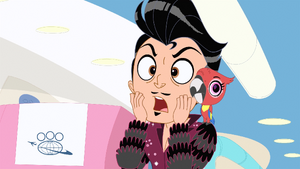 References