Senior Day
Season 4, Episode 4

Production Information

Air Date
November 21, 2015
Written by
Story: Julie McNally Cahill
Tim Cahill
Eric Rogers
Teleplay: Eric Rogers
Supervising director
Joel Dickie
Directed by
Steven Garcia

Episode Guide

Previous
Next
Ivan the Terrific
Littlest Pet Shop of Horrors
Senior Day is the fourth episode of the fourth season of Littlest Pet Shop and the eighty-second episode overall.
Overview
Russell begrudgingly agrees to let his father Jerry move in with him. Meanwhile, Blythe befriends an elderly woman who is eager to have Blythe meet her kindhearted granddaughters.
Summary
When do you think you'll be done, Earl?-[src]


This page/section is under construction.
Once it's finished, this tag may be removed.
Coming soon!
Cast
Trivia
Errors
Coming soon!
Continuity
Russell's plot is similar to Blythe's plot in Helicopter Dad.
On the television in Russell's home, a film is playing showing a groundhog popping out of a hole. This seems to be a very subtle nod to In The Loop in which Russell was trapped within a Groundhog Day time loop, which aired 9 months prior to this episode.
Quotes
Main article: Senior Day/Transcript
Coming soon!
Gallery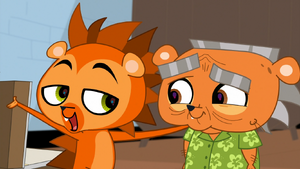 References