Sleeper is the first episode of the third season of Littlest Pet Shop and the fifty-third episode overall.
Overview
Sunil and Vinnie are challenged by Russell to entertain Mr. Von Fuzzlebutt, a jovial raccoon and new day camper, who falls into a deep sleep confusing the pets. Meanwhile, Fisher Biskit tries to figure out what the secret is to Littlest Pet Shop's recent success.
Summary
At Littlest Pet Shop, all the customers are packing in following a major success at the Pet Fashion Expo. While the sales are rising up at Littlest Pet Shop, Largest Ever Pet Shop was deserted due to sale problems. Fisher was in disbelief about the sales when the Biskits came in with a magazine of Très Blasé, with Blythe and the pets in the front cover, citing that LPS became a hit from the Pet Fashion Expo. The Biskits decided to find out what secret was used that made the sales at Littlest Pet Shop elevated.
At the day camp, Russell challeges Sunil and Vinnie if they can show a good time to the next pet that visits the day camp. At that very moment, Blythe arrives with a new camper named Otto Von Fuzzlebutt, an energetic raccoon that loves to have fun. Sunil and Vinnie tried their best to please Mr. Von Fuzzlebutt, especially considering how sloppy he eats. Unfortunately, while he tries to tell Sunil and Vinnie on what kind of fun things he would love to do, he suddenly falls asleep. At that time, Sunil comes to consclusion that he and Vinnie broke Von Fizzlebutt and stated they are being terrible of treating their guest. Seeing it makes them lose their bet, Sunil and Vinnie decide to paint Von Fuzzlebutt's eyelids since Penny decides to check on Von Fuzzlebutt, with the boys painting his eyelids to make sure he looks awake. Penny came by and shyly talked to Mr. Von Fuzzlebutt for a couple a seconds while Sunil stated that he is in need of an "exerciser run". Seconds later, Penny stated:
Later on, Minka decides to make a painting of Mr. Von Fuzzlebutt. Both she and Russell are surprised Sunil and Vinnie got him to sit so still, considering what an energetic raccoon he is. At Largest Ever Pet Shop, Fisher tells the Biskit Twins to sneak in Littlest Pet Shop in disguise as customers to see what makes Littlest Pet Shop a success. At Downtown City Park, the pets started to play around. During Hangin' by a Thread, Sunil and Vinnie take part in a lot of activities with sleeping Mr. Von Fizzlebutt, such as catching a frisbee, covering Von Fuzzlebutt with an umbrella during the rain because they cannot let their cover be blown and even go along with a date between Von Fuzzlebutt and Penny.
At Littlest Pet Shop, the Biskit Twins, now in disguise, sneak in to find out how the store became a success. Meanwhile, Sunil and Vinnie untie their rope due to their legs being tired. However, as soon as they let go of Von Fuzzlebutt, he gets into trouble and they have to chase him. They end up capturing Mr. Von Fuzzlebutt on the bus.
To that point, the Biskits built a water park since the only info the Biskit Twins got was about an "excellent water" at Littlest Pet Shop. A customer shows up and Fisher tells him that his water park is a "safe way to travel". However, it starts to collapse after Fisher overloads the water supply that was heavy enough to break the entire construction and flood all over the place. Fisher promised himself he will rebuild eventually. Sunil and Vinnie, who were relaxing, start to panic when Blythe tells the pets that Mr. Von Fuzzlebutt's owner will arrive soon. Vinnie tries to throw water at Von Fuzzlebutt's face, but splashes Sunil instead as the latter throws himself in the way in order to prevent those painted eyes to gets washed off. At the same moment, Mr. Von Fuzzlebutt wakes up and states to the boys that he was in his "mini-hibernation", much to the boys' disbelief. When Russell asks him if he had a good time at Littlest Pet Shop, Mr. Von Fuzzlebutt states he did not, but he had a great time (even though he is not really sure what he did).
At the end, Russell is going to give an apology to Sunil and Vinnie for not giving them the respect they deserved, but the boys stated he does not have to. They were just glad the day was finally over.
Songs Featured
Cast
Trivia
Continuity
Errors
Coming soon!
Quotes
Gallery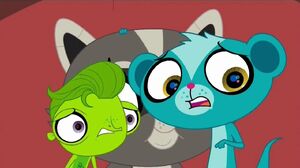 References