Jurassic World: Dominion Dominates Fandom Wikis - The Loop
Play Sound
Snow Stormin' is the fifteenth episode of the third season of Littlest Pet Shop and the sixty-seventh episode overall.
Overview
A massive snow storm hits Downtown City, trapping Blythe and the pets at Littlest Pet Shop.
Summary
When do you think you'll be done, Earl?-[src]


This page/section is under construction.
Once it's finished, this tag may be removed.
Pepper is rummaging through a trunk full of her comedy props, looking for her rubber chicken. She asks Vinnie if he has seen it and he replies, saying he has seen it many times when she presents one of her chicken jokes. Minka swings above overhead, laughing.
Russell asks if Minka could stop her constant chattering and swinging around while he is reading. Penny Ling walks in, chomping on a piece of bamboo. She points out that the book Russell is reading is the same one he has been reading for 3 months. Russell asks if she could stop her loud chewing. Sunil walks in, carrying Pepper's rubber chicken, saying that the book Russell is reading was actually Sunil's book, which he had lended to Russell, but Russell kept it for 3 months. He tosses the rubber chicken to Pepper, saying he was trying to get rid of it, but it kept returning. The pets all start to argue and Zoe tells them all to be quiet since she is listening to songs.
Blythe is stacking cans of cat food, when the phone starts ringing. She picks the phone up and it is revealed to be Mrs. Twombly on the other end of the call. She tells Blythe that the man from the cable company who was supposed to arrive to fix her television had not shown up yet, so she was stuck at home until he showed up. She tells Blythe they are expecting a blizzard.
Songs Featured
Release
The episode was released by Netflix 5 days[1] prior to its scheduled television debut, mislabeled as The Treasure of Henrietta Twombly.
Cast
Trivia
Errors
Coming soon!
Quotes
Main article: Snow Stormin'/Transcript
"Alakazam, I got my plan! Okay, that is not a pure rhyme, but I think my meaning is clear."
"Buttercream, you're the skooshtabooshiest of all the skooshtabooshes!"
Gallery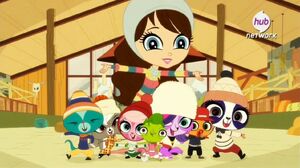 References