Speedy Shellberg is a 150-year-old tortoise who only appeared in The Tortoise and the Heir.
Profile
Speedy is a old tortoise that came to stay at Littlest Pet Shop while his owner Mr. Jones was moving into a new house.
When Blythe told Roger about him, it turned out he was once the pet tortoise of Blythe's mother Lauren, who went by the nickname Betty.
At the end of the episode, he reveals he had Betty's journal stored in his shell. Thinking Blythe was Betty, he gives her Betty's journal.
Personality
Coming soon!
Quotes
Coming soon!
Trivia
During his first lines in the episode, Speedy mentions that his current owner

Mr. Jones

is either his 22nd or 23rd owner, meaning that during his 150 years of life, he has had many owners and Lauren was one of them. He also claimed to be Theodore Roosevelt's pet.
He, Sunshine Sweetness, and Wagger Hobbs are the only characters in the series to have known ages.
Gallery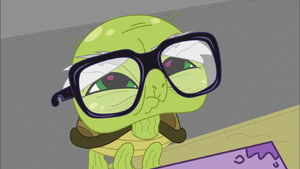 References