Spendthrifty
Season 4, Episode 8

Production Information

Air Date
December 19, 2015
Written by

Roger Eschbacher

Supervising director
Joel Dickie
Directed by

Steven Garcia

Episode Guide

Previous
Next
The Tiniest Animal Store
Un-vetted
Spendthrifty is the eighth episode of the fourth season of Littlest Pet Shop and the eighty-sixth episode overall.
Overview
Blythe gets a second job as a sales clerk at The Thrifty Armoire and struggles to keep her spending under control while the pets are driven bonkers by a demanding doll that Blythe has left in their care.
Summary
When do you think you'll be done, Earl?-[src]


This page/section is under construction.
Once it's finished, this tag may be removed.
Coming soon!
Cast
Trivia
Errors
Coming soon!
Quotes
Main article: Spendthrifty/Transcript
Penny Ling: She's almost as adorable as I am!
Sunil: And that is saying quite a lot.
Penny Ling: Yeah, I know.
Gallery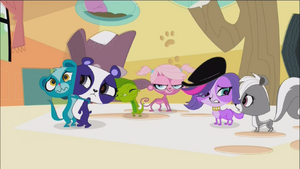 References