Standup Stinker is the twenty-fourth episode of the second season of Littlest Pet Shop and the fiftieth episode overall.
Overview
Pepper feeds Blythe jokes at a standup comedy contest, while the other pets concoct an elaborate plan to make Minka believe she really is the first monkey to land on Mars.
Summary
When do you think you'll be done, Earl?-[src]


This page/section is under construction.
Once it's finished, this tag may be removed.
Coming soon!
Release
Over a month before this episode aired in the United States, it aired on United Kingdom on March 3, 2014.
Cast
Trivia
Errors
Coming soon!
Quotes
Main article: Standup Stinker/Transcript
Coming soon!
Gallery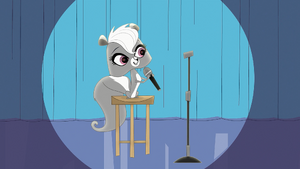 References