The Big, Feathered Parade is the eighth episode of the second season of Littlest Pet Shop and the thirty-fourth episode overall.
Overview
When Blythe discovers her costume designs for the Big Feathered Parade have been stolen by another designer, she enlists her pet pals to help her prove the work is hers. Meanwhile, Vinnie tries to please his idol Bruce, this year's parade grand marshal.
Summary
When do you think you'll be done, Earl?-[src]


This page/section is under construction.
Once it's finished, this tag may be removed.
Coming soon!
Songs Featured
Cast
Singers:
Trivia
Errors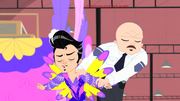 When the Security Guard pulls Ramon, there is a text in red that appears above saying, "GUARD WALK OS (off set) PULLING RAMON."
Quotes
Main article: The Big, Feathered Parade/Transcript
Coming soon!
Gallery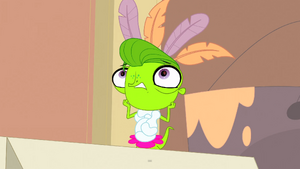 References