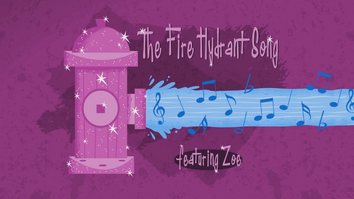 The Fire Hydrant Song is the seventh Littlest Pet Shop animated short published by the Hasbro Studios Shorts YouTube channel, on August 22, 2014.
Summary
The short begins with Blythe walking into Littlest Pet Shop's day camp, calling for Zoe and saying that she's got her outfits for the International Pet Fashion Expo. Instead of a reply, the sounds of squeaking come from the fire hydrant slide. Following those sounds, Blythe finds Zoe inside the slide, chewing on a chewtoy and looking sad. When she asks her for the reason, Zoe says that she's having "a crisis of fabulousness", to which Blythe insists that it's not possible and reassure Zoe that, in order to be fabulous, she has to "think fabulous".
The dog takes her advice and tries to think of the most fabulous stuff she can think of. That makes her enter the alternative reality, where everything is fabulous and the way she wants to see it. That sight inspires her so much that she decides to sing a song about how fabulous she is and how great it is to have a fabulous life style. During the song she dances and turns almost everything she touches into a fabulous version of what (or who) it was before.
When the song ends, Zoe is full of confidence and asks Blythe to give her the outfit. After less than 2 seconds she slides down the slide and says that she's back and she's... fabulous!
Continuity
In the end of the animated short Zoe is wearing the same outfit she did at the beginning of "Topped With Buttercream" episode, but without glasses this time.
Trivia
The animated short is named "The Fire Hydrant Song", but doesn't have much to do with a fire hydrant.
Gallery
Community content is available under
CC-BY-SA
unless otherwise noted.