The Tortoise and the Heir is the first episode of the fourth season of Littlest Pet Shop and the seventy-ninth episode overall.
Overview
While Blythe ponders her life's calling, a 150-year-old giant tortoise with an interesting past comes to the day camp and shares some life changing information with her.
Summary
When do you think you'll be done, Earl?-[src]


This page/section is under construction.
Once it's finished, this tag may be removed.
Blythe is trying to record for her new video blog. However, Penny Ling and Vinnie interrupt her to ask for advice with their television viewing. Upon playing her vlog back, she realizes the impression will be that she is a weird person who talks to pets.
After the credits roll, Penny Ling and Vinnie are shown, coming to the conclusion they need Blythe's help setting the DVR. Unfortunately, when Vinnie gets to Blythe's room, he overhears her sarcastically venting to Youngmee by saying she is going to stop talking to the pets and he takes her seriously.
Cast
Trivia
Continuity
Errors
Blythe's recording on her phone of Penny Ling and Vinnie is different to what actually happens. Penny is clinging to Blythe, but the phone recording shows her standing on the floor. Vinnie frantically shakes Blythe's leg, but on the phone, he does not move it at all.
Quotes
Main article: The Tortoise and the Heir/Transcript
Coming soon!
Gallery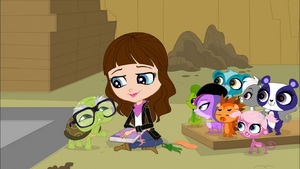 References