Tongue Tied is the sixth episode of the third season of Littlest Pet Shop and the fifty-eighth episode overall.[2]
Overview
Downtown City pets find out that Blythe can understand them. Meanwhile, a ferret makes Blythe doubt her abilities.
Summary
When do you think you'll be done, Earl?-[src]


This page/section is under construction.
Once it's finished, this tag may be removed.
Coming soon!
Songs Featured
Cast
Trivia
Minka's line "What you have here is a failure to communicate" is a reference to Cool Hand Luke.
The song Blythe sings at the beginning is similar to what a Disney Princess would sing, complete with animals doing stuff for her, even the blue birds.
Errors
Coming soon!
Quotes
Main article: Tongue Tied/Transcript
Coming soon!
Gallery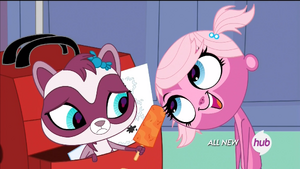 References