You know what you need? You need me! You're winded 'cause you're out of shape!-[src]
This article is incomplete and in need of updates and lengthier content. You can help the Littlest Pet Shop (2012 TV series) Wiki by adding to this article. Remember to follow our guidelines!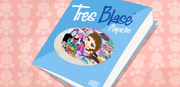 Tres Blasé is a fashion magazine ran by Mona Autumn. It features mostly pet fashion and human fashion. The magazine head office is in Downtown City. The magazine is ran by a nervous and scared secretary and a single camera man.
Mona Autumn did a feature on Blythe in The Expo Factor - Part 2 and Mona invited Blythe to her office in Alligators and Handbags.