Two Pets for Two Pests is the eighth episode of the third season of Littlest Pet Shop and the sixtieth episode overall.
Overview
Sunil works to prove to Minka that he also can paint well. Meanwhile, Blythe tries to convince the Biskits to keep twin chinchillas they had for one day.
Summary
When do you think you'll be done, Earl?-[src]


This page/section is under construction.
Once it's finished, this tag may be removed.
Coming soon!
Cast
Trivia
This episode focuses on the Biskit Twins.
When the duck gets angry, he throws a tantrum in similar fashion to Donald Duck.
Continuity
Errors
Coming soon!
Quotes
Gallery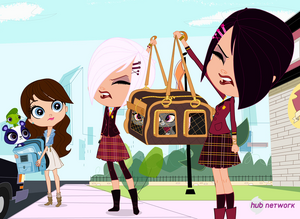 References