"O-kay, that qualifies as the most awkward introduction I've ever experienced."
---
Weber is a house spider who is shown at the Littlest Pet Shop's Day Camp Area in the episode Why Can't We Be Friends?. He is voiced by Peter New. The toyline gives his name as Weber Silker.
Profile
Development and design
Personality
Weber seems to be self conscious of what others think of him as seen when he meets Vinnie and Sunil.
Quotes
Appearances
Gallery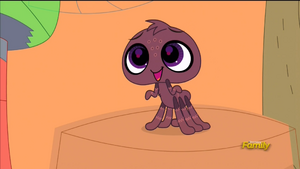 References